An insight into Shiva Parvati's selfless love, devotion and faithfulness
Hindu mythology is a tapestry of stories, characters, and world ages. These stories are backdrops of different aspects of our own personalities.
When we listen to a myth with our heart, the story reveals us our true Self. Such is the story about Shiva and Parvati. Its not only holy, but an immortal epitome of love devotion and faithfulness.
What do Shiva and Parvati symbolize?
Lord Shiva is the presiding deity of destruction and regeneration. They symbolize the power of renunciation, asceticism and the blessings of marital felicity.
Shiva and Parvati are inseparable companions. A true devotee needs to venerate both and have equal adoration for both. They are a symbol of love, power, and devotion.Whatever Shiva dissolves is recreated by his consort Parvati.
She is the goddess of love, fertility, and devotion. Together they make a formidable couple.
When you invoke the qualities Shiva and Parvati it leads to personal transformation.
Lord Shiva is an unpredictable God. Although he can appear tranquil, he flies into fits of rage. His impulsive acts, and, at times, can be callous. Yet he is considered the most powerful of the Gods in Hindu Mythology.
A tale behind marriage of Shiva and Parvati- Love and Devotion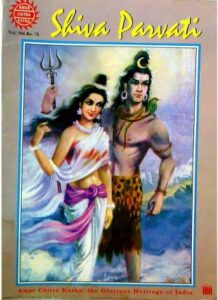 Goddess Sati took birth again on earth as the daughter of King Himavat and Queen Mena. They named her Parvati. Narad Muni came to look at the baby and declared she is destined to marry Shiva. While growing up, she would lose herself thinking about Lord Shiva.
When she was of marriageable age, she went to the Himalayas to perform penance. She was determined to please Lord Shiva and marry him.
Lord Shiva was impressed by her devotion and knew about her desire.
But he was still in mourning for Goddess Sati. He asked Parvati to serve him as the dasi. Thinking that that the rough life will dissuade her. Parvati was pleased to serve him and stayed with him for many years.
At the same time the gods were being tortured by an invincible demon, so the prayed to the supreme god for a saviour.
He assured them that the son of Shiva and Parvati would be the one. So the gods sent Kama, the god of love, to lead Shiva into marrying Parvati.
But when the god of love worked his charm, Shiva was disturbed and turned him to ashes. Parvati redoubled her efforts at penance. One day a young hermit approached her, berating her for wasting efforts on the uncouth Shiva.
Parvati refuted the hermit's challenge. She and was surprised to find the hermit to be Shiva in disguise. She asked him to approach the elders. Once done, Shiva and Parvati got married.
Shiva Shakti Aaraadhanaa (Worship of Shiva and Shakti):
Parvati's worship is incomplete without taking her husband's name, Lord Shiva. Lord Shiva exists in various forms. He is revered, as Nataraja, as a yogi, as a Dalit, and as half-male and half-female, Ardhanarishvara. As Pashupata, he is the kind herder or, now and again, he slays "monsters". Together Shiva and Parvati are a force to reckon with.
A final take on selfless bonding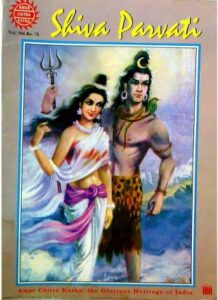 Whenever we desire something that makes us feel alive, we must travel to our heart center to find it. This story shows us we can manifest our desires into reality. But for that we have to be willing to do the work. Let go of expectations and get in the dirt.
Parvati did not raise her vibrations by placing flowers dotingly at Shiva's feet. Instead, she did it by standing on her own. Connect to the dazzling brilliance within. Carry that belief in your own inner strength. Build your inner power, and experience how everything unfolds for you.
Did you like this absorbing story on Lord Shiva and Parvati? If you want to read similar stories click here10 Interesting Facts about Draupadi