Mahabharata is one of the two most important epics of the Hindu religion. It is the story of virtue and dharma which is relayed through the ever-going rivalry and later, the war between two sets of cousins: Pandavas and Kauravas.
The Mahabharata war fought because of the disobedience of dharma, elucidates the meaning of dharma. Many names emerged during the fight for dharma, now they have been forever immortalized in the scriptures and in the hearts of devotees.
We have known Bhishma Pitamaha for his valor and the oath of celibacy, Yudhisthira for his unyielding adherence to truth and dharma, Arjuna for his archery, and Karna for his generosity. Mahabharata is never short of the display of valiance and bravery.
Among the many immortalized figures of Mahabharata, there was Draupadi, the icon of femininity and feminism. Draupadi was the daughter of Drupada, king of the Panchala kingdom. She was also the wife of the five Pandava brothers. Virtuous and graceful, Draupadi had the strength and spirit to face all the sufferings in her life.
She was a fierce, brave, and righteous woman, celebrated as one of the heroic figures of Mahabharata. So, let us know some interesting facts about Draupadi.
The birth of Draupadi
The story of the birth of Draupadi is interesting. Draupadi was born out of the fire, not by a woman. She was born out of king Drupada's wish for vengeance against Dronaharya.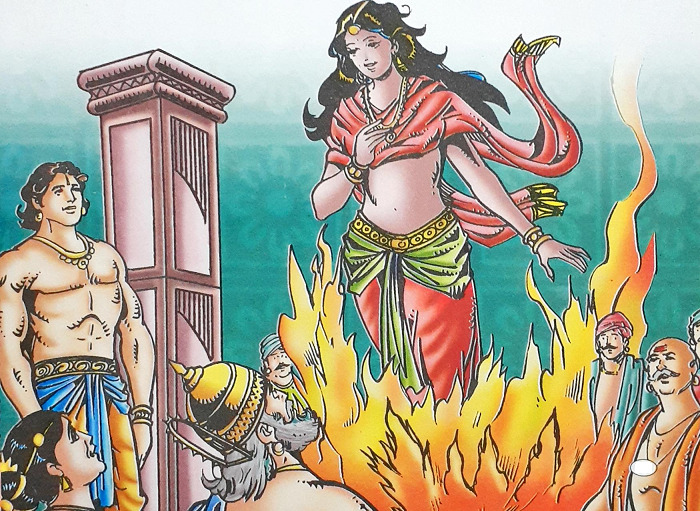 King Drupada and Dronacharya were disciples of Bharadwaja Rishi. They always studied and practiced together. Despite Drupada, being the son of a king and Drona, being the son of a poor brahmin, they grew extremely close and therefore, had formed a great friendship.
Before Story
One day, seeing the poverty of his friend, Drupada promised Drona half his kingdom. Drupada then left to rule his kingdom.
Years later, Dronachrya had gotten married and was blessed with a son. He wished to provide the best for his son but he was still poor. Upon thinking, he remembered Drupada's words and went to Drupad's palace for his dear friend's help.
Upon arriving at Drupada's castle, Drupada mistreated Dronacharya and humiliated him as he had become prideful and greedy. He mocked Drona for his poverty and stated that he never had such a poor friend as friendship is only done with someone of equal status.
Drona ashamed and humiliated left the palace and stayed in his brother-in-law, Kripacharya's house. Kripacharya was the kul guru of the Kuru dynasty. During his stay at Kripacharya's home, Drona garnered the interest of Pitamaha Bhishma and became the royal teacher for the Kauravas and Pandavas.
The seed of revenge had been embedded deep into Drona's heart. Hence, when the Kauravas and Pandavas asked him what he would like for guru dakshina, he asked them to capture the king of Panchala. The Kauravas were the first to try but failed. So, the Pandavas went next.
The five brothers had successfully captured Drupada and presented him to Dronacharya. Drona fulfilled his revenge by taking half of Drupada's kingdom after which he set Drupada free. After that, it was the king of Panchala whose heart was filled with anger and the need for vengeance.
Drupada arranged a yajna and asked for a son who will kill Dronacharya. Dhrishtadyumna along with Draupadi were born out of the fire. Later during the war, Dhrishtadyumna successfully killed Dronacharya.
Draupadi didn't have a childhood
When king Drupada performed the yajna, Draupadi was born with a fully grown body. She was already an adult. Hence, she didn't have a childhood or the early parenting from her father, Drupada.
The boon from Lord Shiva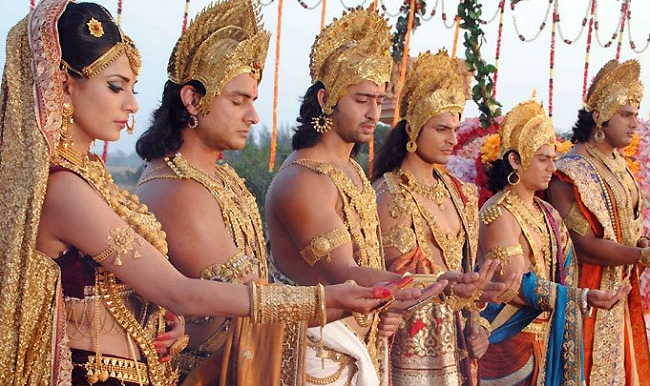 The reason for Draupadi having five husbands is because of the boon from Lord Shiva. It is said that in her previous life, she had pleased lord shiva after a hard penance and was granted a boon.
For her boon, she had asked Lord Shiva for a husband with all fourteen qualities. However, since there could be no man who could possess all the qualities alone. He blessed her with five husbands who would have all the qualities collectively.
Draupadi's condition for her marriage
After Arjuna had won Draupadi's hand in marriage, he excitedly brought her to his mother Kunti. Kunti without looking ordered Arjuna to share whatever he brought with his brothers. Shocked and saddened, Draupadi had to marry all the five brothers.
However, she had one condition for the marriage. The brothers could have other wives but they shall not bring their other wives to Indraprastha. As their common wife, she wouldn't share her household with another woman.
Subhadra, Arjuna's next wife, and Krishna's sister was the only one exempted from the condition. When Subhadra came to Indraprastha, she disguised as a maid. Even after knowing the truth, Draupadi had accepted her as a co-wife and even treated her as her little sister.
Draupadi's curse to dogs
Everyone who knows Draupadi is well aware of her volcanic personality. It was a rule that while she was with one Pandava brother, the other four wouldn't enter her room. They would leave their shoes on the door to inform others. If anyone were to enter during her time with one brother, the other had to go on banvas.
Once Draupadi was with Yudhisthira in her room when a Brahim came to Indraprastha seeking help. Arjuna entered Draupadi's room to get his bow and arrow without knowing Yudhisthira was there. A dog had taken Yudhisthira's shoes away.
Furious and embarrassed, Draupadi cursed the dogs stating "All the world will see you copulate in public, stripped of all shame". Moreover, Arjuna had to go on banvas during which he met and married Subhadra.
Draupadi was a virgin
Despite having five husbands, Draupadi was a virgin. Along with the boon to have five husbands, she also received the boon to be a virgin. After Draupadi spent time with one of her husbands, she would walk through fire and regain her virginity before she went to her next husband.
Draupadi's Disrobing
One of the most heinous acts in Mahabharata was the disrobing of Draupadi. She was the kul-badhu of the Kuru family. However, Duryodhana and Dussashana still disrespected her.  This atrocious crime was what instigated the Mahabharata war.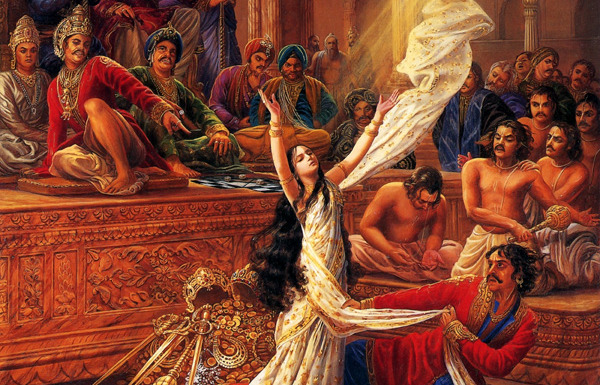 During cheer-haran, Lord Krishna, Draupadi's most trusted friend, came to her rescue. She had once torn off her garment to stop Krishna's bleeding. This action deeply touched Krishna and hence, he would always help her at the time of her need. However, there is also a story that Rishi Durvasa might have saved her.
According to Shiva Purana, once Rishi Durvasa's loincloth was swept away by the Gangas. Draupadi had then, given him a piece of garment to cover himself by ripping her own saree. Pleased, the rishi gave her the boon of unending cloth when she needed it.
Draupadi didn't trust her husbands
Draupadi didn't trust her husbands. Time and again, her husbands gave her enough reasons for the distrust.
Yudhisthira gambled her away as if she was an object resulting in the disrobing. She cried out for help but none of her husbands did anything to save her. Even after that she saved her husbands from being slaves and had the Kauravas return their weapons.
During their agyatvas, Keechaka misbehaved with Draupadi. The Pandavas remained quiet as that would reveal their identities and delayed killing him.
There was also another instance where Jayadratha, the brother-in-law of the Pandavas, had kidnapped Draupadi with the intention to make her his concubine but the Pandavas still didn't want to kill him.
Draupadi's Akshaya Patra
Akshaya Patra is a divine inexhaustible vessel that is said to be given to Draupadi by Lord Krishna or to Yudhisthira by the Sun god.
During Panadavas' exile, many saints, sages, and dignitaries would visit the Pandavas. It became hard for them to serve their guests as they didn't have enough food. The Akshaya Patra was granted to the Pandavas with the condition that the vessel would never deplete until Draupadi had eaten for the day.
Once, Rishi Durvasa along with his disciples visited Hastinapur. Duryodhana pleased the sage and then sent them to Pandava's ashram. He made sure to send them after Draupadi had eaten. Hence, when the rishi arrived with his disciples, they would have nothing to serve.
As the rishi arrived, the Pandavas and Draupadi became agitated not knowing what to do. The rishi and his disciples went for a bath after which they would return to eat. Draupadi prayed to her friend, Lord Krishna who appeared to ask Draupadi for food.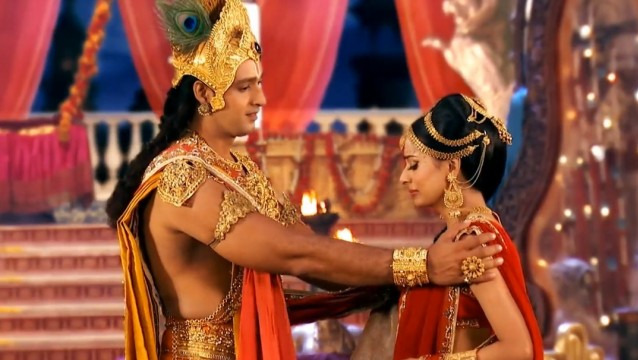 Lord Krishna asked for the vessel and it contained a single grain of rice. He ate the rice and said that it had sated his hunger. Rishi Durvasa and his disciples who were bathing found that they were no longer hungry as Lord Krishna being full meant the satiation of every being of the universe.
Many names of Draupadi
The heroic queen of Mahabharata, Draupadi was known by many names. As the daughter of king Drupada, she was named Draupadi. She was also Panchali the princess of the Panchala Kingdom and Parshati as the granddaughter of Prishata
Born out of fire of the yajna, she was also Agni Putri/Agnijaa and Yajnaseni. Draupadi was also Krishnaa with a dark and radiating complexion. Mirganayan and Nityayuvani for her deer-like eyes and her everlasting youth respectively.
Moreover, she was also nicknamed Sairandhari as the capable maid to Sudeshna, the queen of Matsya.
Summary
The life of Draupadi was filled with hardships and sorrows but she rose above all every time. She had every single quality of a good daughter and a wife but she had a voice of her own.
Rather than being known just as the wife of the Pandavas, she is known as the fierce woman who would always stand up against injustice. Smart, beautiful, and intelligent she is still a source of inspiration and admiration to women to this day.