An insight on supreme Vishnu Avatar and its different forms
As per the Hindu Scriptures, Lord Venkateshwara is one of the sacred avatars of Lord Vishnu. Venkateswara is a human avatar of Lord Vishnu. He took this form while searching for Goddess Laxmi. It is stated so in Varaha Purana and Bhavishya Purana. Another occurence says that, Vishnu, took the form of Venkateswara to express love for his devotees.
He appeared for the salvation and upliftment of humanity in this Kali Yuga age. It is considered the supreme form of Vishnu in this age.The Venkateswara swami temple is also called Kaliyuga Vaikuntam. Venkateswara is another form of Lord Vishnu who is the most popular deity in South India.
He is Venkatachalapathi, Venkataramana or Tirumal devar. Or Varadaraja or Srinivasa or Balaji or Bithala. He has a dark complexion and four hands. In his two upper hands he holds a discus (a symbol of power) and a conch's hell (a symbol of existence). He has his lower hands extended downwards.
With this form he asks devotees to have faith and surrender to him for protection. The supreme temple of Venkateswara is at Tirupati. Every Vishnu Devotee wants to visit this temple at least once in life.
Venkateswara of Tirupati Balaji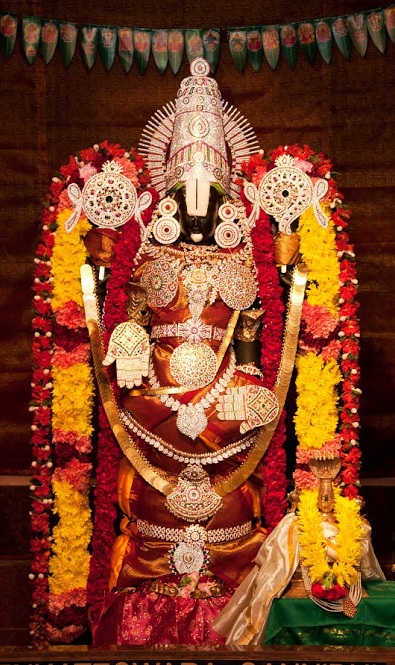 Venkateswara means the lord of "Venkata," meaning the destroyer of sins. It is the combination of the words Venkata (the name of a hill in Andhra Pradesh) and Isvara (Lord). It is derived from two Sanskrit words: "vem," meaning sins, and xa nih "kata" meaning the power of immunity.
Also known as Govinda and Balaji, he is regarded as "Kaliyuga Varada/Daivam,". He is the one who always protects his devotee and blesses them with wealth and success.
This is represented by five deities (Berams). They are Dhruva (Moolavar), Kautuka, Snapan, Utsava, and Bali Beram. The mantra used for Lord Venkateswara is "Om Namo Venkatesaya, Om Namo Narayana". Also is "Sri Venkateshwara Supravatam."
The incarnation of Lord Vishnu in the form of Lord Venkata is regarded as the supreme form in this age. Lord Venkateshwara's temple is considered the Kaliyuga's Vaikuntha. The supreme temple of Lord Venkateshwara is "Tirumala Venkateswara Temple,". It is located in Tirupati, Andra Pradesh, India.
As per. legends Kalkin, also known as Kalki. It is the ultimate avatar (incarnation) of the Hindu god Vishnu. He has not yet manifested himself to the world. Towards the conclusion of the current Kali yuga (epoch) he is sure to arrive.
As the universe's preserver and defender, Vishnu is revered across the world. When the planet is in turmoil, it is his responsibility to return. For restoring the balance between good and bad. The fact is he has taken nine different incarnations so far. Hindus believe that he will take one more incarnation near to the end of this planet.
Conclusion on Lord Venkateshwara and its form
As per legends Lord Vishnu has manifested himself in the Tirumala Venkateswara temple. The purpose behind it in this Kali age is to guide and direct his devotees towards salvation.
According to some scriptures, Srinivasa turned himself into a stone form. This was after Laxmi found out that he married another woman. She is named as Padmavathi (Alamelu Manga). After that Srinivasa manifested himself into a stone statue. When Padmavati and Lakshmi found this out they too turned themselves on either side. Goddess Lakshmi with him on his left side of the chest while Padmavathi rests on his chest's right side. Also, Vakula Devi (mother of Srinivasa of that time) in the form of a garland.
For more information and religious articles kindly click here A summary of four Vedas and It's Origin