Om Namah Shivaya- The beginning
Shivay: It means Shiva or inner self. In general Om Namah Shivaya means "I Bow down to Shiva". In a way, it means bowing down to your own self as Shiva resides in all as own consciousness. The mantra is said to be the five-syllable mantra, na ma si va ya; na represents earth, ma water, si fire, va air, and ya ether.
An insight into the Mantra of Om Namah Shivaya.
Its one of the greatest Mantra in Vedas after Pranav The Om. This mantra contains energy of fifty billion Vedic Mantras.This is the only Vedic Mantra which is so famous unlike other popular mantras. They are popular and famous but are not Vedic.
This traces of this mantra can be found in the Key Scripture Yajurved, Shiva Puran, Linga Puran and others. It elaborates great technical details of every syllable and sound of this Mantra. It has Five Vyhrtatis like Om, its five syllables denote, Five Main Gods, Five Ultimate powers of All God. This means that no body is above or beyond, MahaShiva.
Its every word has a significant meaning which changes as per Sankalpa (purpose) of Mantra. But it is Guru Gamya only means, can be taken from a learned authentic Shaiwa Guru. That too who follows Shivas triveni Or tristrings . Also he should be wearing Tripundra of Bhasma Holy ashes of Yagna, Rudraksha. Above all he should have the knowledge of Shiva Panchakshar Vidya. This vidya is the five worded Great Vedic Mantra.
When taken from Guru, for certain purpose the gyani will tell all about it. About how, and when to chant, what asan or seat, which direction to face on, what meditation to do. Even this mantra is so great that, it can be chanted without guru agya.
But it derives best results if chanted after taking guru agya. If done so it is bound to add crore fold benefit in each single chant. It is important to be taken from an experienced master. If taken from the one who knows whole science of it and can guide disciple step by step.
This mantra chanted rightly by gurus words, can give shishya anything what they want. Such as spiritual bliss, shivas devotion and spiritual and material happiness.
So best is to take the rightful knowledge from the rightful master. Learning spiritual knowledge from master is always a wise decision, to make. If done so it will make your life worthy blissful and divine.
Practicing Om Namah Shivaya
While Om Namah Shivaya is very ancient and powerful it is also a really fun mantra to practice. This mantra is so diverse in the ways that you can express it and each way is powerful and enjoyable.
It is popular to sing Om Namah Shivaya, and I have heard it put to many melodies. In fact, my own band Shanti Shanti has a rendition of this mantra that is easy and fun to sing along with
Importance & Benefits of Om Namah Shivaya Mantra Chanting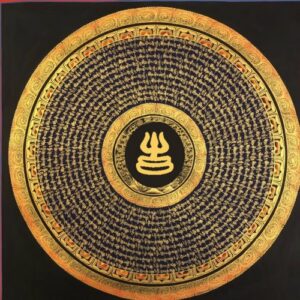 Do you want to know why is it important to chant Om Namah Shivay and the benefits of this chanting mantra? Why is Om Namah Shivaya mantra chanting is considered one of the Most powerful chants? Know more about the significance of the Aum Namah Shivay chant.
Mantras bring you back to your source. Chanting or listening to mantras produce vibrations. It brings about positivity, life uplifting energy, and are universal. Om Namah Shivaya is one of the most powerful mantras. Chanting this mantra builds the energy in your system. It also clears the environment. People have been chanting this mantra for thousands of years.
Benefits of chanting Om Namah Shivaya mantra
Om Namah Shivaya infuses positive energy and removes negative energy. It is also a stress-buster, helping you to relax and unwind. A restless mind becomes stable and peaceful with regular chanting. Om Namah Shivaya helps you to gain control over your senses. This will help you govern your mind eventually. Om Namah Shivaya gives you a sense of direction and purpose in life.
There are nine planets and 27 constellations. Since the Shiva Tattva is the presiding energy and governs the planets. Chanting Om Namah Shivaya helps nullify the effects of malefic planets.