Did you draw up the Knight of Wands in your tarot card reading? Wondering what it is all about? Well let us tell you!
Knight of Wands: A Description
With the look of fierce determination on his face, the Knight of Wands is seen riding on his orange horse with a fiery mane. His clothes and armor are one of a kind. Atop his yellow patterned shirt sits his metal armor and with his armor helmet lies a red feather. Instead of a sword, he carries a wand in his right hand. His outfit and expression makes him look as though he is prepared for the battle ahead. The look on his face tells us that he is working towards success. In this card, you will often find the symbolism of fire. For example, the Knight's yellow robe has the design of salamanders on it, and the background on the card is seen to be hot and dry. With his horse rising on its hind legs, the card tells us the Knight is ready for action.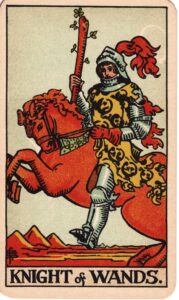 Upright Knight of Wands Meaning: Love
This card symbolizes that someone new has entered your life. This person is probably brave and full of life. They are possible an impulsive person but they have charmed you. They could be someone who makes rash decisions, which is why settling with them can be difficult. This card might also represent a time in your love life where you are going forward into a new adventure. You are more likely to take risks and anticipate approval. Go forward with everything you have got, and it is bound to reward you/
Upright Knight of Wands Meaning: Career
In terms of career, the Knight of Wands represents newer beginnings or new ventures. You go forward with these projects with a lot of passion and determination. It is a great time to start something new since you have an abundance of energy to get through it. In contrast, if you are not beginning anything, this might cause you to become rather frustrated. This card is indicating you to initiate your own projects and seek more opportunities. Effort from you side will prove to be fruitful.
Upright Knight of Wands: Finances
The Knight of Wands during a reading signifies that wealth is coming to you in extravagant amounts. It will be wise to invest this money into travelling and broadening your horizons. Rather than mindless spending on materialistic items, make sure you utilize your wealth and your energy to build on yourself. It will be worth it in the long run.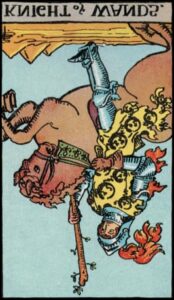 Reversed Knight of Wands Meaning: Love
The reversed Knight of Wands during a reading signifies a rather unstable period in your love life. You will find that either you or your partner is not ready to commit. This might cause the other a lot of turmoil. You will find that although the person likes the excitement of the initial 'chasing' phase of the romance, they will not be too happy with the steady love that comes afterward. If you are already in a relationship, you might be experiencing some stressors in your relationship.  Be it due to exposure to newer environments, or due to impatience, you will be arguing a  bit more than usual.
Reversed Knight of Wands Meaning: Career
The reversed Knight of Wands may be trying to tell you that you need to start looking for and working towards a particular direction. At this point in time, you might be exploring different fields and taking up a variety of different tasks. You may feel as though your life is unpredictable and it is directionless at this point. However, make sure now to truly introspect and choose. Settle down and create a routine. Although it might seem monotonous at first, you will slowly but surely be making progress towards your chosen goal.
Reversed Knight of Wands: Finance
When the reversed Knight of Wands appears on a Tarot reading, it might be a sign of caution. It is a warning sign for you to not engage in mindless spending or even gambling. You might have the money, but do not be overconfident. Although losses are unavoidable in terms of investments, it is a time to be careful and not make financial decisions that you might regret later.