Do you know anyone born between November 22 and December 21? These people fall under the Sagittarius Zodiac sign. Ruled by the element of fire, they have some very interesting characteristics. Here we share with you 15 interesting facts that your will find common between majority of the Sagittarians.
1. They have curious minds
Sagittarians have extremely inquisitive minds and are always open to anything new. They revel in socializing with new people and experimenting with various things. They have many ideas in their minds and love to learn things first-hand.
2. They are perfectionists
Sagittarians put their heart and soul into their work. They pay close attention to details which is why it is sometimes very difficult to satisfy them. They want everything they do and approve to be perfect. This is why their work is often extremely refined and they often receive a lot of admiration for it.
3. Sagittarians procrastinate a lot
Sagittarians are perfectionists and big dreamers. Sometimes they have such big dreams and expectations that they end up procrastinating. They love their ideas and often begin work quickly, but may procrastinate half way when they realize it may not be working out according to their vision. They are also a little more prone to focusing on too many things at once. This means that although they accomplish great work, they may not always complete it on time.
4. Positive thinking is their greatest attribute
Sagittarians are always looking at the brighter side of life. They are mature in the way that their think and often work towards finding solutions. You will not find them dwelling too much on their problems. They prefer to think ahead about how to improve their situation.
5. Determination is their friend
Sagittarians often know exactly what they want from their life. They set goals according to what they find important, rather than what society thinks. They are determined to achieve their dreams whether it is in terms of love, career or travel. With their unshakable determination, they definitely go a long way.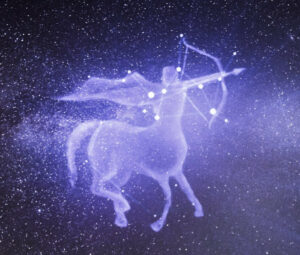 6. They can be rather moody
Although they are normally very calm, Sagittarians have moments where they can be rather moody. Because they are usually sweet and decent, their anger will often never be forgotten. When angry, their thoughts and speech sometimes may not have boundaries.
7. Sagittarians are very intelligent
Sagittarians are indeed always searching for knowledge. Because of this, you will find that they are extremely smart and intelligent. They love to read and study. Next time you have a question in mind, ask a Sagittarian, they will probably know, or at least will have thought about it too.
8. They love to travel
Sagittarians love to travel, and always search for newer adventures to embark on. They take a keen interest in cultures, traditions and ways of life other than their own. When travelling, they believe that their main purpose is to understand the meaning of their existence.
9. People love their personality
Sagittarians are quirky and abashedly themselves in every situation. They have a keen eye for body language and understand people's emotions well. Their emotional intelligence means that they often understand people around them are feeling, and they make sure to keep them at ease. Because of this, others respect and admire their personality quite a lot.
10. They are sometimes restless
Sagittarians are quite fast paced and impatient. They want life to revolve at their own pace, but if that does not happen, they can often end up quite frustrated. Their mind is always restless with thoughts about what to do in the future and what to do next.
11. Sagittarians are rather careless
Sagittarians are risk takers and often achieve great things. However, they can sometimes be very careless and even put others at risk. This tends to bring them criticism from others. They might take things for granted and often end up regretting this afterwards.
12. They are committed to their partners
If you have a partner who is a Sagittarius, consider yourself extremely lucky. Indeed, you have found yourself a loyal partner who will support you every step of the way. Once Sagittarians commit, it is close to impossible for them to betray the ones they love. With their positivity, love, care and faithfulness, they are great partners for life.
13. The honor their responsibilities
With every role they play in life, Sagittarians make sure to fulfill their duties well. They are aware of all their responsibilities and can balance all of them well.
14. Sagittarians stand their ground
Sagittarians have a very non-conforming nature. This means that they know exactly what they believe in and once they form solid opinions, they will not budge. They understand that everyone views life differently and that each has their own say. This gives them the maturity to handle problems in a very understanding fashion.
15. They love being the center of attention
Sagittarians love being the center of attention. Sometimes, they love attention so much that they can go to unthinkable heights to achieve it. This can cause others to find them irritating sometimes. However, they are often times the life of the party due to their confidence and love of the limelight.